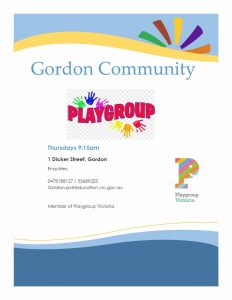 gordon.ps@education.vic.gov.au
We are very excitied to start our playgroup again after the recent completion of our new purpose built, early childhood space.  The Gordon Community Playgroup brings young children, parents, families and our community (and surrounds) together to learn and develop through informal play activities and social interaction. This supportive group helps parents and caregivers build social and support networks that encourage and assist them in their valuable parenting role.
The Gordon Community Playgroup is here to help families to have fun, relax and to build friendships that last beyond playgroup. Playgroups work best when they are inclusive of all, creating an open, welcoming and friendly environment for all children and their families, no matter their circumstances, backgrounds or cultural identity.  We welcome all families from surrounding districts and towns.
The benefits of joining our playgroup
Playgroup is fun! At playgroup you get to meet other people going through similar experiences, ease the isolation that can come with caring for young children and find out about local community, health and support services. It allows families to enjoy this precious time with their kids while they develop and grow. It also provides reprieve from the daily grind, parents- you can have a cup of tea and unwind while your children play in a safe space.
WHAT AGE CAN KIDS JOIN PLAYGROUP?
Any children aged 0-5 can join playgroup.